CSIC HZ Wind Power finally decided to change the hoses in the offhore 5 MW wind turbines to GS-Hydro's piping solution. GS-Hydro China will provide the piping components, prefabrication and cleaning to the prototype project. The wind turbines are located in Fujian area in Southern China.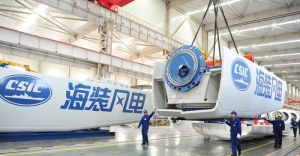 Offshore wind power potential in China
The offshore wind power development is very fast in China and the potential is huge. This has partly been the result of onshore wind power limitations in recent years. CSIC (Chongqing) Haizhuang Wind Power Equipment Co., Ltd., founded in 2004, is ranked as top 10 wind power manufacturers in China. The company specializes in the development and manufacturing of large wind power equipment and related main components. It was established by integration of CSIC's (China Shipbuilding Industry Corporation) affiliated companies and research institutes. CSIC HZ Wind Power is expected to have more and more offshore wind turbine project opportunities in the coming years.
GS-Hydro wins the prototype deal
After 3 years of communication and many onsite visits, GS-Hydro China received a prototype order in 2016 for the offshore 5 MW wind turbines. GS-Hydro China will provide the piping components, prefabrication and cleaning for the project. The piping work will be done in the Shanghai workshop and delivered to the site for easy installation. The GS-Hydro products will be used in the 5 MW pitch hydraulic system as well as in the cooling and lubrication systems inside the turbine as well as inside and outside the tower. The conversion from pipe to hose will still have a few hose assemblies for areas with high vibration or movement. In those areas the GS-Hydro Hoses will be used.
A successful project brings mutual benefit
As the wind turbines operate in harsh offshore conditions, CSIC HZ Wind Power will benefit directly from the GS-Hydro piping solution as it will increase the piping reliability and save maintenance costs dramatically. On the other hand, the successful completion of this prototype order will act as a valuable reference for further business for GS-Hydro within the wind power industry in China.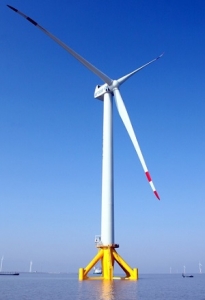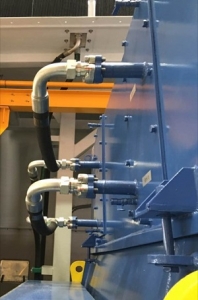 Offshore 5 MW wind turbines at sea and from the inside